Description
Synchrony Deluxe
Vacuuming isn't a chore with the Synchrony Deluxe.
Model #: S30D

Tandem Air Technology

Lifetime Belt Protection

6-Layer Filtration

7-Layer Filtration

Gallery & Videos
Take the chore out of doing chores with the bright and cheery Synchrony Deluxe, featuring the patented Tandem Air System that cleans from floor to ceiling and just about everything in between. With a new Deluxe Touch handle, longer cord, longer wand, and a hose with a 6-foot longer reach than previous models, it's easier than ever to use. Top that off with a lifetime belt, HEPA media filtration and the new self-sealing bag system, and you might actually look forward to cleaning! The Synchrony Deluxe combines amazing cleaning performance with the durability and convenience that you've come to expect from Simplicity.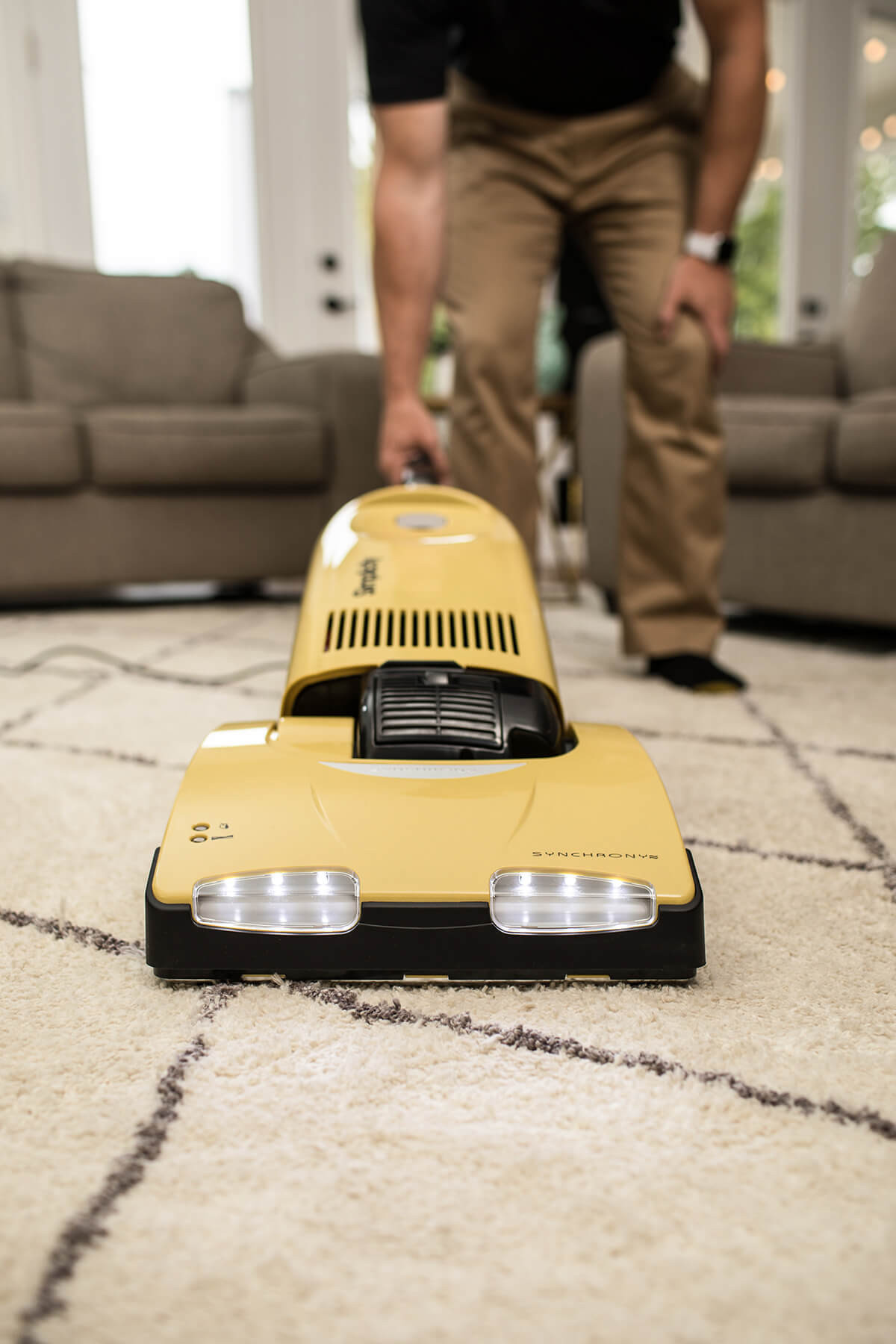 Features
Very Important Vacuum Service Plan – Free scheduled comprehensive cleanings from participating retailers
Tandem Air technology – Two motors work together to clean like nobody's business
Self-Sealing HEPA Media Bag – Keeps the pollen, dust and dander out of your indoor air and in the bag where it belongs.
Onboard Tools – Like a cleaning ninja, whip out a crevice tool here, an upholstery tool there and twirl your dusting brush to destroy your enemy – dirt!
Hall Sensor and Lifetime Belt – Shoelaces got you down? This vacuum saves belts by stopping the brushroll when it jams.
Metal Brushroll with Replaceable Brushstrips – Forget plastic and wood — this brushroll is built for the long haul.
6-Position Height Adjustment – Dial up Auto or any level from X-LO to X-HI.
HEPA Media Filter – Traps particles that make you sneeze
Gold Seal of Approval – The Carpet and Rug Institute gave this vacuum a Gold Seal of Approval for its ability to remove soil, contain dust and retain carpet quality.
17-Foot Cleaning Reach – Reach for the stars, or at least for the the stairs and far reaches of your home with a hose and wand that stretch 17 feet
Surface Selector – Switch from bare floors to plush carpet with the flip of a switch
Product Specs
Bottom Plate
Chrome Plated Steel
Brushstrips
2 Rows, Replaceable
Filtration
6-Stage including HEPA Media and Charcoal
Full Bag Indicator
On Nozzle
Handle Tube
Aluminum with Deluxe Touch Grip
On/Off Switch Location
On Handle with Floor Selector